Sponsored post: I received a digital copy of this book for free on a read-to-review basis. Thanks to author Coral Walker.
The Land of Taron tells the story of sixteen-year-old Jack and Brianna, the quarrelsome older siblings of the Goodman family, who wake up one morning to find their parents Marcus and Zelda have disappeared. When their little brother Bo is kidnapped, they travel to the remote land of Taron on the planet Cygnore to try to find and reunite their family.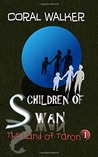 This wasn't a bad story, but I lost interest.
This story was about three siblings who woke up one morning to find their parents gone, and then found out that their parents were royalty from another planet. Jack and Brianna came across as quite immature, and I can't say that I really liked them all that much, and the storyline just lost me. I think that other people might enjoy this book, but it wasn't one for me.
5 out of 10