Sponsored post: I received a digital copy of this book for free on a read-to-review basis. Thanks to Penguin Random House Grupo Editorial and NetGalley.
Can you imagine a future where everyone has given up sleeping?

From the creator of the television series Red Band Society and author of the international bestseller The Yellow World comes this uniquely special novel.

What if I could reveal your secrets with just a glance? And what if I could feel with your heart just by looking at you? And what if --in a single moment-- I could know that we were made for each other? Marcos has just lost his mother, a famous dancer who taught him everything, and he decides that his world can never be the same without her. Just as he is about to make a radical change, a phone call turns his world upside down.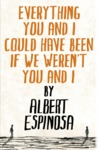 (Source: I received a digital copy of this book for free on a read-to-review basis. Thanks to Penguin Random House Grupo Editorial and NetGalley.)
"I like sleeping, it's probably what I like best in this life."
This was quite a strange book, and I'm not really sure that I totally understand it.
Okay, so the main character in this book is called Marcos, his mother has just died (like yesterday), and he has a strange gift of being able to read people's memories. He also has a job working for a member of the police, who realises how useful Marcos' gift could be. The world that Marcos lives in is a little bit dystopian, where people are able to take a drug once, that then means that they never need to sleep again. Seeing as how Marcos says that the thing he likes best in life is sleeping though, I don't know why he would pay so much money to never sleep again.
So, we then get news that an alien has been captured, and Marcos is asked to go and read it using his gift, to work out if it really is an alien or not. I have to say that I found this a little bit weird. The sudden appearance of an alien didn't really fit in with the story up to that point.
"Confirmed arrival of the first extraterrestrial to the planet Earth."
Anyway, some stuff happens with regards to the alien, but then the alien is seemingly forgotten about, whist Marcos meets some girl and begins to wonder if she likes him too. We then get a bit of an odd romance, which at points comes across as a romance, and at other points comes across as a friendship.
So, (I'm going to have to bullet point this) in this book we get –
• A boy who has a gift of reading other people's memories.
• A world in which you can take a drug to stop you from ever needing to sleep
• The appearance of an Alien
• A bit of an odd romance/friendship
• Some reminiscing about the main characters dead mother and his relationship to her,
• Some slightly unusual ideas and about what happens to you after you die.
• A bit of an odd ending that didn't tie everything up.
So did I enjoy this book? – it was okay, I listened to a lot of it and it wasn't bad, I did find it quite an odd story, and I also found it a little disjointed as it seemed to keep going off in random directions.
Would I recommend it? – I wouldn't tell you to rush out and buy a copy, but if you get the chance to read it you might like it.
Do I understand the title now? – Not really!
6 out of 10