Sponsored post: I received a digital copy of this book for free on a read-to-review basis. Thanks to HarperCollins and Edelweiss.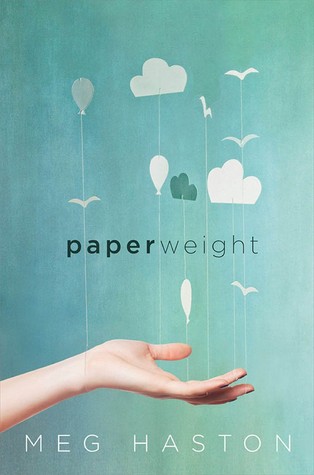 Blurb (from Goodreads):
Seventeen-year-old Stevie is trapped. In her life. In her body. And now in an eating-disorder treatment center on the dusty outskirts of the New Mexico desert. Life in the center is regimented and intrusive, a nightmare come true. Nurses and therapists watch Stevie at mealtime, accompany her to the bathroom, and challenge her to eat the foods she's worked so hard to avoid. Her dad has signed her up for sixty days of treatment. But what no one knows is that Stevie doesn't plan to stay that long. There are only twenty-seven days until the anniversary of her brother Josh's death—the death she caused. And if Stevie gets her way, there are only twenty-seven days until she too will end her life. In this emotionally haunting and beautifully written young adult debut, Meg Haston delves into the devastating impact of trauma and loss, while posing the question: Why are some consumed by their illness while others embark on a path toward recovery?
(Source: I received a digital copy of this book for free on a read-to-review basis. Thanks to HarperCollins and Edelweiss.)
"If Girl A departs sanity around the time her mother abandons her, assuming she is travelling at full speed towards self-destruction, how long will it take to reach her dead brother?"
This was a touching story of one girls battle with anorexia and depression, and her grief over the loss of her brother.
"I imagine myself dead. Cold. Perfect and unbreathing with a still, stone heart."
I liked Stevie in this book, but she did come across as a bit of a b*tch at times. I understood why being at the treatment centre was hard for her though, and how she felt like she had no control over her life, so the way she acted was understandable really.
"Pasta? Salad, with dressing of course, slick, greasy calories that ruin the vegetables. Brownies? I look around to see if anybody else gets the joke. No one's laughing."
The storyline in this dealt with Stevie's eating disorder, as well as her grief over losing her brother, and her suicidal ideas. I like that there was mystery in this book though, and that it took a while for the reader to slowly put the clues together to work out not only what had gone on, but why it had happened too.
"I will not take a single breath on the one-year-anniversary of the night I killed my brother."
There was a little bit of romance in this story, but it was all part of the mystery, so I don't really want to say much on the subject because of dropping spoilers. I liked the romance part of this book though, and I did figure out quite early what had happened.
"There are too many ifs in my head to think straight: if Josh were alive. If I'd never taken a seminar. If I hadn't introduced Eden and Josh that night. If."
The ending to this was good, and I felt like the future was looking brighter for Stevie at that point. I sometimes find that stories like this don't have a solid enough ending for me, but this one did so I was pleased about that.
7 out of 10.