Sponsored post: I received a digital copy of this book for free on a read-to-review basis. Thanks to HarperCollins and Edelweiss.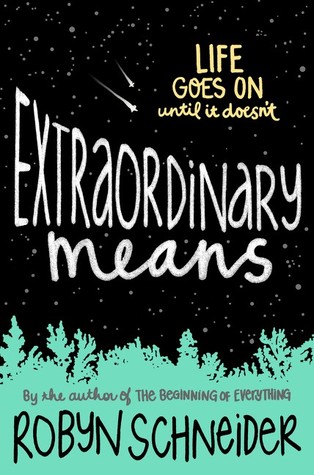 Blurb (from Goodreads):
From the author of The Beginning of Everything: two teens with a deadly disease fall in love on the brink of a cure. At seventeen, overachieving Lane finds himself at Latham House, a sanatorium for teens suffering from an incurable strain of tuberculosis. Part hospital and part boarding school, Latham is a place of endless rules and confusing rituals, where it's easier to fail breakfast than it is to flunk French. There, Lane encounters a girl he knew years ago. Instead of the shy loner he remembers, Sadie has transformed. At Latham, she is sarcastic, fearless, and utterly compelling. Her friends, a group of eccentric troublemakers, fascinate Lane, who has never stepped out of bounds his whole life. And as he gradually becomes one of them, Sadie shows him their secrets: how to steal internet, how to sneak into town, and how to disable the med sensors they must wear at all times. But there are consequences to having secrets, particularly at Latham House. And as Lane and Sadie begin to fall in love and their group begins to fall sicker, their insular world threatens to come crashing down. Told in alternating points of view, Extraordinary Means is a darkly funny story about doomed friendships, first love, and the rare miracle of second chances.
(Source: I received a digital copy of this book for free on a read-to-review basis. Thanks to HarperCollins and Edelweiss.)
"My first night at Latham house, I lay awake in my narrow, gabled room in cottage 6 wondering how many people had died in it. And I didn't just wonder this casually, either. I did the math. I figured the probability. And I came up with a number: eight. But then, I had always been terrible at math."
This was quite a sad story about a group of kids with Total-Drug-Resistant Tuberculosis, and the cure that might have come too late.
I felt sorry for the kids in this story, they were all really young, and really sick, and most of them hadn't got to do anything that they might have wanted to do in their lives. Being away from home also couldn't have been easy, especially when their friends had seemingly moved on without them.
"The essay was about me. About how we'd planned to go to college together, but after I'd become 'terminally ill' she knew that she needed to live for both of us. She actually said that. 'Live for both of us,' like I was too corpsified to do any living myself."
The storyline in this was about the kids at the camp getting to know each other, and also the romance between Lane and Sadie. They broke the rules, had some fun sneaking out, but also had to watch each other getting sicker, and even dying.
"Someone checked out. They're doing housekeeping." He said it darkly, like he'd deliberately chosen the wrong words. When he realized I didn't get it, he sighed. "You know, cleaning out his room for the next lucky occupant."
"Someone died?"
"Oh, you get used to it. Just wait until they bring the body out."
The romance between Lane and Sadie seemed to happen quite naturally, but it was quite sad because there was threat of death hanging over them.
"When Sadie had joined me in the gazebo and we'd sat there talking about everything. I'd been so lost in my own misery that it hadn't quite dawned on me how amazing it felt for someone to understand, someone who was going through the same thing."
The ending to this was okay, but it was sad, as not everyone made it. When the announcement came about the new treatment, it seemed obvious that it would come too late for certain people, and it really was a bit of a race to see who could hold on the longest and possibly be cured.
6.5 out of 10