Sponsored post: I received a digital copy of this book for free on a read-to-review basis. Thanks to HarperCollins and Edelweiss.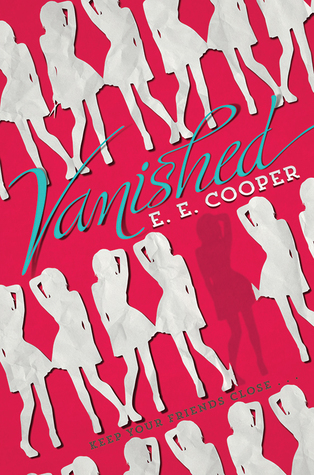 Blurb (from Goodreads):
Gone Girl meets Pretty Little Liars in this fast-paced psychological thriller full of delicious twists and turns. Friendship. Obsession. Deception. Love. Kalah knows better than to fall for Beth Taylor . . . but that doesn't stop her from falling hard and falling fast, heart first into a sea of complications. Then Beth vanishes. She skips town on her eighteenth birthday, leaving behind a flurry of rumors and a string of broken hearts. Not even Beth's best friend, Britney, knows where she went. Beth didn't even tell Kalah good-bye. One of the rumors links Beth to Britney's boyfriend, and Kalah doesn't want to believe the betrayal. But Brit clearly believes it—and before Kalah can sort out the truth, Britney is dead. When Beth finally reaches out to Kalah in the wake of Brit's suicide, Kalah wants to trust what Beth tells her. But she's swiftly realizing that nothing here is as it seems. Kalah's caught in the middle of a deadly psychological game, and only she can untangle the deceptions and lies to reveal the unthinkable truth.
(Source: I received a digital copy of this book for free on a read-to-review basis. Thanks to HarperCollins and Edelweiss.)
"Being let into Brit and Beth's circle had been like discovering a portal to Narnia in the back of the closet. Once you know the world is a magical place, you can't unknow it."
This was an interesting mystery story, and I'm intrigued to know what really happened.
I liked Kalah in this story, and I felt really sorry for her too at points. Not only was she hiding something from her family and friends by not telling them who she was in love with, but then to have to deal with losing her friends too was truly horrible for her.
"I pulled my extra pillow close and inhaled the scent of rosemary and mint still lingering from Beth's shampoo. Even sheets didn't forget her."
The storyline in this was good, and the mystery aspect was done well. I did find the pace a little slow, which was the only bad thing about this book really, but I was quite desperate to work out what was going on.
"You've reached Beth. I'm off believing in the impossible, so leave a message."
There was some romance, and it was quite secret and forbidden, as very early on in the book we found out that Kalah was kissing someone else other than her boyfriend, and that that someone else was a girl.
"It was always like this with her. Hot and cold. Kisses and then confusion. It had been weeks since our first kiss, and despite everything we'd done and what we felt for each other, I still didn't know what it was that we were doing."
The ending to this wasn't much of an end, I felt like there were so many things unresolved, and the mystery hadn't even been 100% uncovered, so I really hope that there will be a sequel to this story so that we can find out exactly what was going on, and what happened to a certain somebody.
7 out of 10