Sponsored post: I received a digital copy of this book for free on a read-to-review basis. Thanks to HarperCollins and Edelweiss.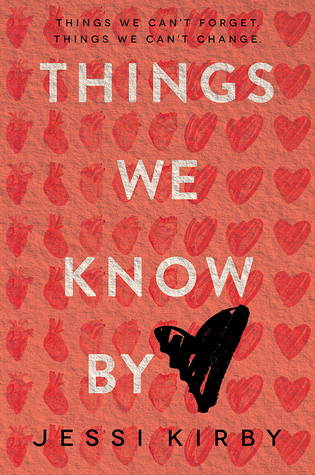 Blurb (from Goodreads):
When Quinn Sullivan meets the recipient of her boyfriend's donated heart, the two form an unexpected connection. After Quinn loses her boyfriend, Trent, in an accident their junior year, she reaches out to the recipients of his donated organs in hopes of picking up the pieces of her now-unrecognizable life. She hears back from some of them, but the person who received Trent's heart has remained silent. The essence of a person, she has always believed, is in the heart. If she finds Trent's, then maybe she can have peace once and for all. Risking everything in order to finally lay her memories to rest, Quinn goes outside the system to track down nineteen-year-old Colton Thomas—a guy whose life has been forever changed by this priceless gift. But what starts as an accidental run-in quickly develops into more, sparking an undeniable attraction. She doesn't want to give in to it—especially since he has no idea how they're connected—but their time together has made Quinn feel alive again. No matter how hard she's falling for Colton, each beat of his heart reminds her of all she's lost…and all that remains at stake.

(Source: I received a digital copy of this book for free on a read-to-review basis. Thanks to HarperCollins and Edelweiss.)
"Four hundred days and too many heartbeats to count.
Four hundred days and too many places and moments where Trent no longer exists."
This was an okay story, but it felt quite average, which is odd considering what it's about.
I felt quite sorry for Quinn, she obviously really missed Trent, and losing him so suddenly was really difficult for her. I understood the way she wanted to meet the people that his organs had gone to though, as a way of keeping his memory alive, and showing that his death resulted in something amazing.
"When she took a deep breath with Trent's lungs and brought my hand to her chest so I could feel them fill and expand, my heart had filled right along with them."
I liked the storyline in this book, but I wasn't a fan of the lying. I know Quinn didn't outright lie, but the lie of omission just went on for so long that it became an even bigger thing than it was to start with.
"Finding the guy who got Trent's heart isn't gonna bring him back. Neither is acting like you died."
There was some romance, but again, I was a little hesitant about it because of the secret between them.
"Because this is the part where you fall in love."
The ending to this was okay, and I was pleased that things worked out okay in the end, this book was just missing a little something for me though.
6 out of 10