Sponsored post: I received a digital copy of this book for free on a read-to-review basis. Thanks to SOURCEBOOKS Fire and NetGalley.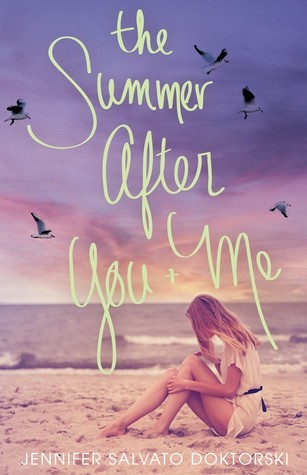 Blurb (from Goodreads):
Sunbathing, surfing, eating funnel cake on the boardwalk—Lucy loves living on the Jersey Shore. For her, it's not just the perfect summer escape, it is home. And as a local girl, she knows not to get attached to the tourists. They breeze in over Memorial Day weekend, crowding the shore and stealing moonlit kisses, only to pack up their beach umbrellas and empty promises on Labor Day. Lucy wants more from love than a fleeting romance, even if that means keeping her distance from her summertime neighbor and crush, Connor. Then Superstorm Sandy tears apart her barrier island, briefly bringing together a local girl like herself and a vacationer like Connor. Except nothing is the same in the wake of the storm. And day after day, week after week, Lucy is left to pick up the pieces of her broken heart and broken home. Now with Memorial Day approaching and Connor returning, will it be a summer of fresh starts or second chances?
(Source: I received a digital copy of this book for free on a read-to-review basis. Thanks to SOURCEBOOKS Fire and NetGalley.)
"Connor Malloy was kissing me. I was kissing Connor Malloy. That's all that mattered."
This was a YA contemporary romance, about love in the aftermath of a failed relationship.
I felt quite sorry for Lucy in this story, not only had she lost the boy she loved for reasons she didn't know, but her twin brother behaved horribly towards her! Why he was so nasty, and basically tried to ruin her life for her I don't know, but his behaviour was pretty bad.
"You're amazing, Luce. You know that? You knew I needed that car for work, and now all of a sudden you're interested in driving sixty miles for an unpaid internship."
The storyline in this was quite slow, and it did drag in places. I did wonder where the story was going at points, but thankfully there were a couple of twists to make things a bit more interesting.
There was romance in this story, and it was pretty sweet, I couldn't believe the way that Liam had tried to ruin Lucy and Connor's relationship though!
"I figured you got the message and didn't want to see me because you regretted what happened between us."
The ending to this was hopeful, and I really hope that this pair will have a happy ending.
7 out of 10