Sponsored post:I received a digital copy of this book for free on a read-to-review basis. Thanks to Amy Patrick, All Night Reads, and NetGalley.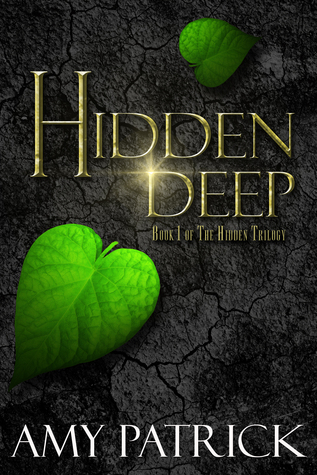 Blurb (From Goodreads):
Give in to the Glamour… Sixteen-year-old Ryann Carroll has just run into the guy who saved her life ten years ago. You might think she'd be happy to see him again. Not exactly. She's a bit underdressed (as in skinny-dipping) and he's not supposed to exist. After her father's affair, all Ryann wants is to escape the family implosion fallout and find a little peace. She also wouldn't mind a first date that didn't suck, but she's determined not to end up like her mom: vulnerable, betrayed, destroyed. Ryann's recently moved back to her childhood home in rural Mississippi, the same place where ten years earlier she became lost in the woods overnight and nearly died. She's still irresistibly drawn to those woods. There she encounters the boy who kept her from freezing to death that long ago winter night and was nowhere to be seen when rescuers arrived. He's still mysterious, but now all grown-up and gorgeous, too. And the more she's with him, the greater the threat he poses to Ryann's strict policy-- never want someone more than he wants you. Seventeen-year-old Lad knows the law of his people all too well: Don't get careless and Don't get caught. It's allowed his race to live undetected in this world for thousands of years, mentioned only in flawed and fading folklore… Lad's never been able to forget about Ryann since that night ten years ago. When he sees her again, his fascination re-ignites and becomes a growing desire that tempts him to break all the rules. He's not even supposed to talk to a human, much less fall in love with one. And the timing is atrocious. The Assemblage is coming, the rift between the Light and Dark is widening, and mysterious celebrity fan pods are becoming more and more widespread and influential. Lad may have to trade his own chance at happiness to keep the humans, especially Ryann, blissfully unaware and safe.
(Source: I received a digital copy of this book for free on a read-to-review basis. Thanks to Amy Patrick, All Night Reads, and NetGalley.)
"So you meet an amazing guy in the middle of the woods – why does this kind of thing never happen to me?"
"I guess you should go skinny-dipping more often,"
This was a YA paranormal romance, with creatures you'd expect to find in Lord of the Rings!
I liked Ryann, although she did come across as a little immature at points. It was obvious how much she liked Lad though, and it was noble of her to sacrifice everything for his happiness.
"I'm surprised your father let you leave with me – I'm surprised he me leave at all."
The storyline in this mainly dealt with Ryann and Lad getting to know each other, and Ryann trying to find a way to save the trees which were home to Lad's family. I was a bit surprised when I found out what race Lad was supposed to be, as I'm not sure I've ever read a book with this type of paranormal creature in it.
"It was impossible. It was crazy. And I knew it was true."
There was some romance, although it seemed like Ryann and Lad weren't going to be able to be together and have a relationship because of the differences between them.
"The kiss was perfect, firm but not too aggressive, gently exploring and inviting me to do the same."
The ending to this was fairly happy, but the epilogue then left us with a cliff-hanger.
6 out of 10