Sponsored post: I received a digital copy of this book for free on a read-to-review basis. Thanks to St. Martin's Press and NetGalley.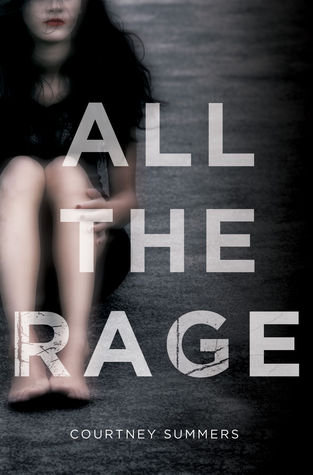 Blurb (from Goodreads):
The sheriff's son, Kellan Turner, is not the golden boy everyone thinks he is, and Romy Grey knows that for a fact. Because no one wants to believe a girl from the wrong side of town, the truth about him has cost her everything—friends, family, and her community. Branded a liar and bullied relentlessly by a group of kids she used to hang out with, Romy's only refuge is the diner where she works outside of town. No one knows her name or her past there; she can finally be anonymous. But when a girl with ties to both Romy and Kellan goes missing after a party, and news of him assaulting another girl in a town close by gets out, Romy must decide whether she wants to fight or carry the burden of knowing more girls could get hurt if she doesn't speak up. Nobody believed her the first time—and they certainly won't now — but the cost of her silence might be more than she can bear.  With a shocking conclusion and writing that will absolutely knock you out, All the Rage examines the shame and silence inflicted upon young women after an act of sexual violence, forcing us to ask ourselves: In a culture that refuses to protect its young girls, how can they survive?
(Source: I received a digital copy of this book for free on a read-to-review basis. Thanks to St. Martin's Press and NetGalley.)
"His hands are everywhere and he's a vicious weight on top of her that she can't breathe against so she cries instead, and how do you get a girl to stop crying?
You cover her mouth."
I have to say that this book is aptly named; because boy did I feel rage!
I felt so sorry and angry and frustrated for poor Romy in this story. Not only had she gone through one of the most terrible things that a woman could possibly experience, she then had to deal with her classmates calling her a liar and bullying her, and even the local police force calling her a liar and belittling her.
"He said my son raped your daughter."
"Of course, no one believes it."
The storyline in this really got me angry. At every turn it seemed like someone was doing or saying something unnecessarily cruel to poor Romy, and the way things were held against her, the way she was bullied, and the way she was generally treated like trash just really annoyed me. Rage was definitely what I was feeling, and life was just so unfair to Romy.
The murder mystery was almost a secondary storyline in this, but it was good, and it was right to have it there to keep the story interesting.
There was a little bit of romance in this, but not a lot, and it wasn't really necessary.
The ending to this was pretty good, and I really hope that Romy's life will improve from here in.
7.5 out of 10