Sponsored post: I received a digital copy of this book for free on a read-to-review basis. Thanks to Bloomsbury Publishing Plc (UK & ANZ) and NetGalley.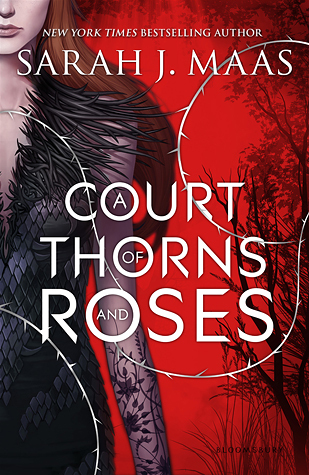 Blurb (from Goodreads):
A thrilling, seductive new series from New York Times bestselling author Sarah J. Maas, blending Beauty and the Beast with faerie lore. When nineteen-year-old huntress Feyre kills a wolf in the woods, a beast-like creature arrives to demand retribution for it. Dragged to a treacherous magical land she only knows about from legends, Feyre discovers that her captor is not an animal, but Tamlin—one of the lethal, immortal faeries who once ruled their world. As she dwells on his estate, her feelings for Tamlin transform from icy hostility into a fiery passion that burns through every lie and warning she's been told about the beautiful, dangerous world of the Fae. But an ancient, wicked shadow grows over the faerie lands, and Feyre must find a way to stop it . . . or doom Tamlin—and his world—forever. Perfect for fans of Kristin Cashore and George R. R. Martin, this first book in a sexy and action-packed new series is impossible to put down!
(Source: I received a digital copy of this book for free on a read-to-review basis. Thanks to Bloomsbury Publishing Plc (UK & ANZ) and NetGalley.)
I know a lot of people aren't going to like me because of this review, but I can't lie, I really didn't like this book.
Fayre was a stubborn girl, and she did everything she could to keep her family alive, even when she was the youngest and started hunting at only 14. The way her sister's treated her wasn't very nice at all, and her father's laziness didn't help matters either. I really wanted her family to actually care about her and all that she did for them, but it just didn't happen.
The storyline in this okay, but the pace was way too slow, and after a while every page felt tedious! This is probably just because I wasn't enjoying the story, and I've come to the conclusion that this author's writing just really isn't for me anymore, but this book was a struggle to get through. It felt long, it felt slow, and I had problems even caring what was happening.
I didn't get the romance either. Yes, this is supposed to be a beauty and the beast retelling, but I didn't fall in love with the beast, and I didn't get why Fayre did either. One moment she's making plans to escape, and the next she wants him to kiss her?! I mean really?! Talk about Stockholm syndrome!
[ the sex. I mean, she had sex with this guy/beast? He dug his claws into her hips? That is just beyond wrong. (hide spoiler)]
The ending to this had a bit of action, but I totally guessed the answer to the riddle straight away, and I just couldn't wait for this to be over. I don't have problems with retellings, I don't have problems with fantasy stories, or stories about the fae in general, but this book just killed me slowly with every page, and I am delighted to be able to delete it from my kindle.
4 out of 10