Sponsored post: I received a digital copy of this book for free on a read-to-review basis. Thanks to author Rachel Cotterill, and RMS.
Blurb (from Goodreads):
When a stranger tells her she's a mage, Ailith is intrigued but she's also afraid. Magic is heresy, and heresy means death under the Temple Law. Even literacy is suspect in a girl of her background, and her sister's impending wedding only serves as a reminder that she should be focusing on her future. Then a local priest asks her to rescue his son, and she starts to wonder if her talents could be a blessing, after all. The Lord Baron of Watersmeet, Leofwin isn't accustomed to welcoming uninvited visitors. A commoner turning up at his gates should be no more than a minor footnote to his day, but something about Ailith catches his attention. Alchemy can be lonely work and an apprentice might be just what he needs. As their lessons grow into shared experiments, Leofwin wonders if he might even trust her with his greatest challenge. But Ailith can't forget why she came to the castle.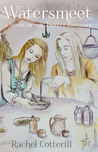 (Source: I received a digital copy of this book for free on a read-to-review basis. Thanks to author Rachel Cotterill, and RMS.)
"The Lord Baron of Watersmeet is an alchemist?" "One of the very best."
This was a lovely YA fantasy story, and I liked the unique ideas about alchemy.
I really liked Ailith, she was brave and kind, and she really stood up and made a difference when put to the test. It was sad the way she had to leave home to get the teaching and guidance that she needed, but she didn't let that stop her from doing what she needed to do.
"My father caned me," Ailith said. "But he sent me here for punishment not healing."
The storyline in this was about Ailith and her alchemy skills, Leofwin who liked her as more than a student, and Garrick who wanted to take Leofwin's castle for himself. Ailith had to tackle many different situations, from alchemy problems to siege's, and learned a lot along the way. I did find the pace to be a little slow in places, but this didn't spoil the story.
"It seems the gods have already sent the answer to my prayers. Ailith is perfectly suited to go."
There was some romance, but it was very slow building. It seemed quite obvious quite early on how Leofwin felt about Ailith, but she just didn't seem to catch on at all! I have to say that when he popped a certain question it really wasn't romantic at all though, he seriously needs to work on that!
"You're not old, even if the library is dusty. And…" She blushed. "I'm afraid I pictured you as rather stern and unforgiving."
The ending to this was good, but I'm still interested to find out what happens to this pair in the next book in the series.
7.5 out of 10