Sponsored post: I received a digital copy of this book for free on a read-to-review basis. Thanks to HarperCollins and Edelweiss.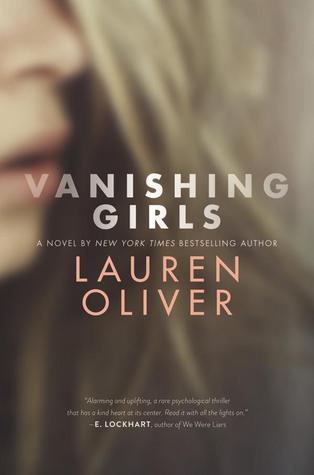 Blurb (from Goodreads):
New York Times bestselling author Lauren Oliver delivers a gripping story about two sisters inexorably altered by a terrible accident. Dara and Nick used to be inseparable, but that was before the accident that left Dara's beautiful face scarred and the two sisters totally estranged. When Dara vanishes on her birthday, Nick thinks Dara is just playing around. But another girl, nine-year-old Madeline Snow, has vanished, too, and Nick becomes increasingly convinced that the two disappearances are linked. Now Nick has to find her sister, before it's too late. In this edgy and compelling novel, Lauren Oliver creates a world of intrigue, loss, and suspicion as two sisters search to find themselves, and each other. "Alarming and uplifting, a rare psychological thriller that has a kind heart at its center. Read it with all the lights on." -- E. Lockhart, author of We Were Liars.
(Source: I received a digital copy of this book for free on a read-to-review basis. Thanks to HarperCollins and Edelweiss.)
"The truth is this: it doesn't take any skill to almost-die, or to almost-live either."
This was an intriguing story about two sisters separated by a dangerous accident, and their relationship before and after it happened.
"Dara is bored to tears alone one Saturday night.
Dara is hopelessly scarred for life."
I really liked Dara and Nick, and it was so sad the way they were no longer talking after the accident. It seemed like they were really close before, and for them to be so distant with each other afterwards was really unusual, and it was obvious how much it was affecting Nick.
BEFORE:
"Want to play?"
These are the three words I've heard most often in my life. Want to play?




AFTER:
"Happy birthday, Dara," I say out loud. I fish my phone from my pocket. No surprise, she never texted me back.
The storyline in this was really good, with Nick and Dara not talking, an obvious animosity between them, a missing little girl, and an element of mystery over what happened between the girls to cause them to fall out so spectacularly.
"I can see the faint imprints of footsteps in the mud. Looking up I think I see a flash of skin, a bright spot of colour, a flicker of dark hair moving through the woods that crowd up against the back of our house.
"Dara!" I call out. Then: "Dara!"
But she doesn't turn around."
There was a little bit of romance, but not a lot, and this also played into the animosity between the girls, as it seemed like there might have been a bit of a love triangle going on between the girls and the boy next door.
"Dr Lick Me – I'm sorry, Lichme – says I should spend five minutes a day writing about my feelings.
So here I go:
I hate Parker.
I hate Parker.
I hate Parker.
I hate Parker.
I hate Parker.
I feel better already!"
The ending to this was surprising, but something was also revealed that I had guessed at very early on in the book, not that this spoiled the book at all for me.

"Tonight Dara and I wake the beast together. Tonight we ride the Gateway up to the stars."
Overall; gripping tale about two sister's torn apart by an accident,
7.5 out of 10