Sponsored post: I received a digital copy of this book for free on a read-to-review basis. Thanks to HarperCollins and Edelweiss.
Blurb (from Goodreads):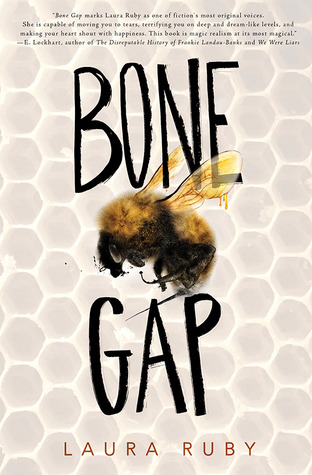 Everyone knows Bone Gap is full of gaps—gaps to trip you up, gaps to slide through so you can disappear forever. So when young, beautiful Roza went missing, the people of Bone Gap weren't surprised. After all, it wasn't the first time that someone had slipped away and left Finn and Sean O'Sullivan on their own. Just a few years before, their mother had high-tailed it to Oregon for a brand new guy, a brand new life. That's just how things go, the people said. Who are you going to blame?

Finn knows that's not what happened with Roza. He knows she was kidnapped, ripped from the cornfields by a dangerous man whose face he cannot remember. But the searches turned up nothing, and no one believes him anymore. Not even Sean, who has more reason to find Roza than anyone, and every reason to blame Finn for letting her go.

As we follow the stories of Finn, Roza, and the people of Bone Gap—their melancholy pasts, their terrifying presents, their uncertain futures—acclaimed author Laura Ruby weaves a heartbreaking tale of love and loss, magic and mystery, regret and forgiveness—a story about how the face the world sees is never the sum of who we are.
(Source: I received a digital copy of this book for free on a read-to-review basis. Thanks to HarperCollins and Edelweiss.)
This book was weird, but I really liked it!
Finn was quite a considerate character really. He seemed to go out of his way to be nice and to do the right thing, and seemed to genuinely care for the people of Bone Gap, whilst the other residents just saw him as pretty but vacant. This was a bit of a shame really, and I really hated the way they wouldn't listen to him about Roza's kidnapping.
The storyline in this was really good, and I loved the way this was written, the story really sucked me in, and was basically really enjoyable to read. I did find the way Roza's kidnapping was handled to be a little odd, and the strange occurrences in Bone Gap were also really weird, but they were also really magical! I loved how the magic was so believable, and how well the story managed to weave all these strange happenings together into something beautiful.
There was some romance and it was quite sweet. I loved the way that Finn found Petey beautiful, even when everyone else thought she was ugly, and how he didn't let her push him away.
The ending to this was really good, and I was so happy with the way things played out. I am so glad that I decided to read this book, as I thought it sounded kind-of weird from the blurb, but it was definitely the right kind of weird for me.
Overall; magical, clever, and beautiful in its own weird way,
9 out of 10.