Sponsored post: I received a digital copy of this book for free on a read-to-review basis. Thanks to Jelly Bean Press and NetGalley.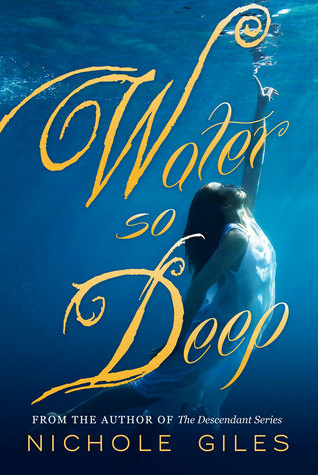 Blurb (from Goodreads):
Seventeen-year-old Emma Harris is drowning on dry land. No one knows what's happening to her, and she'd like to keep her evolution from human to mermaid a secret, but the truth is getting harder and harder to hide. From her adoptive family, from her friends, and especially from the irresistible James Phelps. Her time in the ocean is spent dodging a possessive merman, while her time on land is split between caring for her special-needs brother and squeezing in every last possible moment of human life. She soon realizes falling for James is unavoidable when he constantly comes to Emma's rescue and somehow manages to see through her carefully constructed icy facade to the vulnerability she lives with every day. Everything about James makes Emma yearn for a life on land she just can't have. When Emma's brother disappears on her watch, James is the only person she trusts to help her save him. But even if they can save her brother, nothing can prevent her return to the sea. Whether she likes it or not, Emma is changing—unable to breathe without yielding to the tide—and it's only a matter of time before she's forced to surrender forever.
(Source: I received a digital copy of this book for free on a read-to-review basis. Thanks to Jelly Bean Press and NetGalley.)
"Love. We're bound by love. I love him."
This was an okay story, but it felt like it took forever to really get going!
I liked Emma and James, but I felt like Emma should maybe have made a bit more of an effort to find a way out of the situation she was in. It seemed like her only response was to ignore things, which really didn't help.
"Fifteen moon cycles left."
Emma squeezed her eyes shut, swallowing a knot of pain. "How could I possibly forget? I already struggle to breathe on land sometimes."
The storyline in this wasn't bad, it was just slow, and the slowness of the story really frustrated me. I felt like nothing was happening, and like I was constantly waiting for something other than Emma's everyday existence to happen. I wanted James to know what was going on, I wanted things to escalate, I wanted there to be a bit of excitement!
"Mate? He has given me to you? But you're way older than me."
"Age has little to do with the will of the Sea King."
The romance in this was also very slow. I appreciated that Emma and James needed to get to know each other, but it seemed like all she was doing was mooning over him, and then pushing him away, which got a bit old.
"Relationship. That word – that one word – snapped Emma back to reality.
How had she let this happen?"
The ending to this wasn't really an ending, it was a pause before the next book. We got a monstrous cliff-hanger, and I really hate that I'm now stuck waiting for the next book to find out what will happen next!
Overall; a very, very slow mermaid tale,
6 out of 10
"He wouldn't rest until he had her in his arms again."