Sponsored post: I received a digital copy of this book for free on a read-to-review basis. Thanks to Amazon Publishing and NetGalley.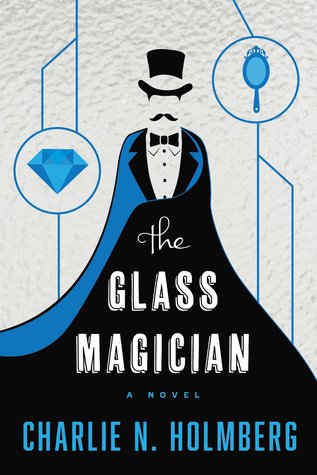 Blurb (from Goodreads):
Three months after returning Magician Emery Thane's heart to his body, Ceony Twill is well on her way to becoming a Folder. Unfortunately, not all of Ceony's thoughts have been focused on paper magic. Though she was promised romance by a fortuity box, Ceony still hasn't broken the teacher-student barrier with Emery, despite their growing closeness. When a magician with a penchant for revenge believes that Ceony possesses a secret, he vows to discover it…even if it tears apart the very fabric of their magical world. After a series of attacks target Ceony and catch those she holds most dear in the crossfire, Ceony knows she must find the true limits of her powers…and keep her knowledge from falling into wayward hands. The delightful sequel to Charlie N. Holmberg's The Paper Magician, The Glass Magician will charm readers young and old alike.
(Source: I received a digital copy of this book for free on a read-to-review basis. Thanks to Amazon Publishing and NetGalley.)
"It is my responsibility to fix this," she whispered.
Delilah turned from the window. "What?"
"My fault, my responsibility,"
This was an enjoyable story, and I liked it a lot more than 'The Paper Magician'.
Ceony was once again happy to walk straight into dangerous situations in this book, and seemed to get in worse and worse scrapes! She really was single-mindedly fixated on saving everyone, especially Emery.
"If I didn't take risks like this, you'd be dead!" she shot back. She swung her hand out, nearly knocking a seashell from the sink beside her. "I can't sit idly by while the rest of the world goes on without me!"
"You do not hold up the world," Emery replied, closer to his normal volume. "You are not God, and it's time you stopped acting like you were."
The storyline in this book was a lot more enjoyable than the first book, and we didn't get any silly wandering through someone's heart which was good! I did feel really sorry for the poor dog when he got wet, and I liked the different spells that glass magicians were able to do with glass.
"Delilah grabbed her hand, sucked in another breath, and held it. She stepped up on the dresser – pulling Ceony onto the chair, their hands linked together – and slowly slipped through the silvery glass.
Ceony squeezed her friends hand tighter and gasped at the coldness of the glass as her hand, arm, and shoulder squeezed through it. She closed her eyes as the rest of her body slipped onto the other side."
The romance escalated a bit in this book, and it seemed that Emery was suddenly on the same page as Ceony. It was nice to see the pair of them like that though, rather than Ceony suddenly deciding that she loved Emery after taking a stroll through his heart!
"You have a great deal of good fortune in your blood, Ceony, but you cannot continue to take these kinds of risks. You're not immortal. Do you have any idea what it does to me when you put yourself in danger?"
The ending to this was better than the ending to The Paper Magician, we got a bit of action, a couple of deaths, and an exciting discovery with regards to the material bindings!
6.25 out of 10