Sponsored post: I received a digital copy of this book for free on a read-to-review basis. Thanks to HarperCollins and Edelweiss.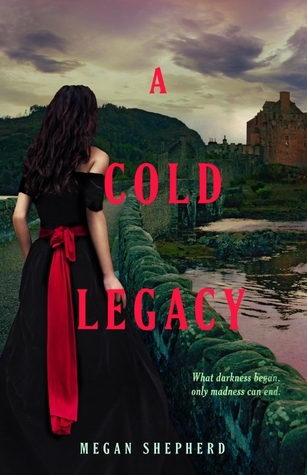 Blurb (from Goodreads):
After killing the men who tried to steal her father's research, Juliet—along with Montgomery, Lucy, Balthazar, and a deathly ill Edward—has escaped to a remote estate on the Scottish moors. Owned by the enigmatic Elizabeth von Stein, the mansion is full of mysteries and unexplained oddities: dead bodies in the basement, secret passages, and fortune-tellers who seem to know Juliet's secrets. Though it appears to be a safe haven, Juliet fears new dangers may be present within the manor's own walls. Then Juliet uncovers the truth about the manor's long history of scientific experimentation—and her own intended role in it—forcing her to determine where the line falls between right and wrong, life and death, magic and science, and promises and secrets. And she must decide if she'll follow her father's dark footsteps or her mother's tragic ones, or whether she'll make her own. With inspiration from Mary Shelley's Frankenstein, this breathless conclusion to the Madman's Daughter trilogy is about the things we'll sacrifice to save those we love—even our own humanity.
(Source: I received a digital copy of this book for free on a read-to-review basis. Thanks to HarperCollins and Edelweiss.)
"No matter how much Montgomery pushed me to be like my mother, he was wrong. Only my father's legacy could guide me now. Father had created man out of animal, but he'd never conquered death before. I could."
This was a really good end to the series, and I loved all the twists!
"Consider this your first lesson: always wear an apron you don't mind getting dirty. Very dirty."
I liked Juliet in this book, even if some of her decisions shocked me! Lucy also made some shocking decisions, and I was glad that Montgomery was there at times to keep them from becoming worse that Juliet's father!
"Maybe the fortune teller was right. Reading the future was nonsense, but there was a grain of truth in how his predictions had made me feel – as though escaping Father was impossible, even in death. Maybe, just maybe, I should stop trying so hard to fight it."
The storyline in this book was once again back to 'Frankenstein', only this time Juliet was the mad doctor! She really did seem to be turning into her father in this book, and she really did seem to be catching the madness that would drive her to start meddling the way her father had.
"Already my fingers were itching to try. Isn't this what I'd been craving, deep down where I didn't want to admit it?"
"I pulled a bone saw from my satchel and held it up to the glinting light. "We only need his head.""
I loved how many twists and turns there were in this book though, and Juliet got into so much trouble! Every time things got bad, it wasn't long before they got even worse! And every time things seemed to be looking up, something else would come along to totally turn things upside down.
"You're keeping a man secret in the attic," he said, and blinked solemnly.
There was romance in this book, and even a wedding to plan!
"I reached out to hold his hand. I knew it was untraditional for the bride and groom to touch during the ceremony, but we'd given up formalities a long time ago."
The ending to this was good, although we did get some unexpected deaths which were a bit sad. I was also left with a couple of questions revolving around the practicality of some things, (Highlight to read spoiler -

where would the money come from to rebuild Ballentyne Manor? Juliet had no money, and McKenna certainly wouldn't have had money. Unless Elizabeth had some somewhere I don't see how they would have been able to rebuild. And what would happen to Edward in the Arctic? Would Juliet and Montgomery have been able to continue alluding the police? Would they have gotten caught eventually. And would Juliet ever really let the reanimation science die? Would she really never consider using it again? Or writing it down? Would she have ever had children of her own with Montgomery?)
[ where would the money come from to rebuild Ballentyne Manor? Juliet had no money, and McKenna certainly wouldn't have had money. Unless Elizabeth had some somewhere I don't see how they would have been able to rebuild. And what would happen to Edward in the Arctic? Would Juliet and Montgomery have been able to continue alluding the police? Would they have gotten caught eventually. And would Juliet ever really let the reanimation science die? Would she really never consider using it again? Or writing it down? Would she have ever had children of her own with Montgomery? (hide spoiler)]
"Sometimes you remind me so much of your father it's frightening."
8.5 out of 10