Sponsored post: I received a digital copy of this book for free on a read-to-review basis. Thanks to Amazon Publishing and NetGalley.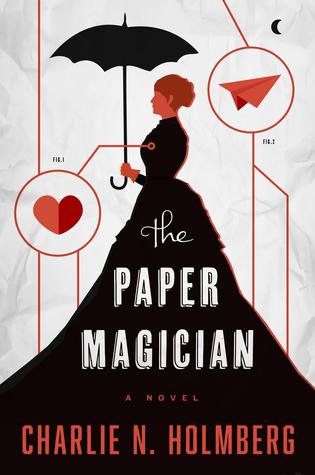 Blurb (from Goodreads):
Ceony Twill arrives at the cottage of Magician Emery Thane with a broken heart. Having graduated at the top of her class from the Tagis Praff School for the Magically Inclined, Ceony is assigned an apprenticeship in paper magic despite her dreams of bespelling metal. And once she's bonded to paper, that will be her only magic… forever. Yet the spells Ceony learns under the strange yet kind Thane turn out to be more marvelous than she could have ever imagined — animating paper creatures, bringing stories to life via ghostly images, even reading fortunes. But as she discovers these wonders, Ceony also learns of the extraordinary dangers of forbidden magic. An Excisioner — a practitioner of dark, flesh magic — invades the cottage and rips Thane's heart from his chest. To save her teacher's life, Ceony must face the evil magician and embark on an unbelievable adventure that will take her into the chambers of Thane's still-beating heart—and reveal the very soul of the man.
(Source: I received a digital copy of this book for free on a read-to-review basis. Thanks to Amazon Publishing and NetGalley.)
"Material made by man, your creator summons you. Link to me as I link to you through my years until the day I die and become earth."
This book started out quite promising, but unfortunately took a big turn for the worse.
I found Ceony quite a rude person, and she was also really, really nosey! She was rude to her new employer, rude about his house, and whenever given the chance would happily nose around his office and his bedroom, rifling through his things, and generally spying on him!
"The front you put on your home is horrid."




"The tiniest smile teased her lips as she sat down in Mg. Thane's desk chair and began opening his drawers, none of which had been locked."
The storyline in this started out okay, I liked the way the magicians made so many things from paper, and did things with it that you maybe wouldn't think of, like making an origami dog.
"Ceony gaped in surprise. There, wagging its little paper tail, stood a paper dog."
But at around the half-way mark, things just went downhill rapidly. Whilst I accepted that magic could be used to steal someone's heart, I really hated the part of the book where Ceony got sucked into said heart, and had to battle her way through it!
[ And the romance was absolutely awful! She sees a few of his memories and suddenly she's in love with him? Just what?

"He gestured to the empty expanse surrounding them. "This all of this. Why have you come so far to help me?""
"Because I think I'm falling in love with you," She admitted."




Really? Because you didn't even like him at the start of the book. (hide spoiler)]
I also noticed a bit of a 'Wizard of Oz' resemblance in this book. A girl sucked into a strange land through no fault of her own, complete with her little dog, and looking for someone called 'Em'? Sounds like Dorothy to me.
The ending of this was a relief, and I was so glad that the book ended at 96%! The last 20% of the book was just painful to get through. My eyes now need a rest from all the rolling they did.
4 out of 10