***This novel contains graphic sexual content and harsh language. It is only appropriate for adult readers age 18+.

Have you ever been so angry that hitting things felt good? Or so numb that you actually felt high? The past few years have been like that for me. Traveling between fury and indifference with no stops in between.

Some people hate me for it, while others are scared of me. But none of them can hurt me, because I don't care about anything or anyone.

Except Tatum.

I love her so much that I hate her. We used to be friends, but I found out that I couldn't trust her or anyone else.

So I hurt her. I pushed her away.

But I still need her. The sight of her centers me, and I can pool all of my anger into her. Engaging her, challenging her, bullying her...they are my food, my air, and the last part of me that feels anything human.

But she left. She went to France for a year, and came back a different girl.

Now, when I push, she pushes back.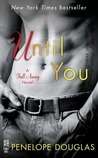 (Source: I own a copy of this book.)
When I started this book I wasn't really enjoying it, but it was better by the end.
Jared was quite simply an ass for most of this story. I didn't like him at the start of Bully, and I really didn't like him for most of this book either. Just stop pushing her away if you claim you love her so much! I mean really?! Talk about a broken record. If you love her that much stop bullying her and making her life hell!
The storyline in this was extremely similar to Bully, although thankfully there were a few bonus scenes which we didn't get in the first book. It did take me a while to warm up to Jared though, and if he hadn't gotten it together a bit at the end, I really wouldn't have liked this book.
There were a few sexy scenes which made the book a little more interesting, and a couple of extra sexy moments compared to the first book which was nice.
The ending to this was slightly different to that of Bully. I'm interested to see what will happen in the next book though, as Madoc was a bit of an arse in this book too.
Overall; an interesting look at the other side of the story,
7.25 out of 10.