Sponsored post: I received a digital copy of this book for free on a read-to-review basis. Thanks to Harlequin TEEN and Netgalley.
Acclaimed author Katie McGarry returns with the knockout new story of two high school seniors who are about to learn what winning really means.

Champion kickboxer Haley swore she'd never set foot in the ring again after one tragic night. But then the guy she can't stop thinking about accepts a mixed martial arts fight in her honor. Suddenly, Haley has to train West Young. All attitude, West is everything Haley promised herself she'd stay away from. Yet he won't last five seconds in the ring without her help.

West is keeping a big secret from Haley. About who he really is. But helping her-fighting for her-is a shot at redemption. Especially since it's his fault his family is falling apart. He can't change the past, but maybe he can change Haley's future.

Hayley and West have agreed to keep their relationship strictly in the ring. But as an unexpected bond forms between them and attraction mocks their best intentions, they'll face their darkest fears and discover love is worth fighting for.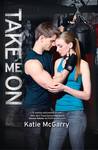 (Source: I received a digital copy of this book for free on a read-to-review basis. Thanks to Harlequin TEEN and Netgalley.)
Haley is a kick boxer who hasn't fought in 6 months, and West is a boy who's prepared to fight for her honour against Haley's ex-boyfriend Matt.
What secrets are they hiding? And can Haley help West to beat Matt?
This was an okay story, but it dragged a bit for me.
Haley and West (Love that name - wanted to name my son that but the other half was having none of it) were both okay characters. I constantly felt like Haley was holding back though, and that started to irritate me. I wanted to know why she was the way she was, and it took too long coming.
The storyline in this was okay, but the main problem for me was that it felt like it dragged. I didn't feel like that much actually happened, and I got bored. I wanted more action, and instead it just dragged. I thought that 'Crash Into You' was slow in places, but this felt even slower, and I didn't quite feel the sexual energy between this pair enough to override the slow pace.
This was obviously about the romance, and it did grow on me as the book went along, but I still didn't fall in love with this pair the way I expected to, which was just disappointing.
The ending was okay, and I was glad that we got a happy ending. I was also pleased to find out that the next book will be about Echo and Noah!
Overall; okay story, but a bit slow for me,
6.5 out of 10