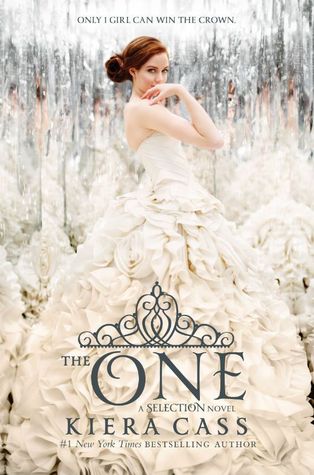 Blurb (from Goodreads):
The Selection changed the lives of thirty-five girls forever. And now, the time has come for one winner to be chosen.

America never dreamed she would find herself anywhere close to the crown—or to Prince Maxon's heart. But as the competition approaches its end and the threats outside the palace walls grow more vicious, America realizes just how much she stands to lose—and how hard she'll have to fight for the future she wants.

From the very first page of The Selection, this #1 New York Times bestselling series has captured readers' hearts and swept them away on a captivating journey... Now, in The One, Kiera Cass delivers a satisfying and unforgettable conclusion that will keep readers sighing over this electrifying fairy-tale long after the final page is turned.
OMG. I don't even know where to start with this one. I am an emotional wreck after reading this book. An absolute wreck.
America was herself to the best of her ability again in this book. She did make some stupid decisions at times, but I was nice the way she managed to uphold her integrity, and it was nice to see the way she realised her feelings for Maxon, even if she wouldn't share them with him!
Maxon, was just, ahhhhh, Maxon ♡ Loved him!
( Although I have to say that continuing to snog other girls when you've pretty much made up your mind is infuriating!)
The storyline in this was pretty good, although I did feel like there was a bit of a slow patch in the middle. We had loads going on in this book though – rebel activity, secret bargains, possible moles, death, destruction, assassination attempts, lots of changing of minds, lovey-dovey scenes, angry scenes, 'why won't you tell him?!' scenes, 'What are you doing?!' scenes, 'You're going to get in trouble for that!' scenes, 'will you hurry up and do it already?!' scenes, and finally, finally, finally – a wedding!!
Overall; I just loved it!
9 out of 10.