Sponsored post: I received a digital copy of this book for free on a read-to-review basis. Thanks to author Trisha Leigh.
Synonyms: insignificant, unimportant, nonessential, irrelevant

In the world of genetic mutation, Gypsy's talent of knowing a person's age of death is considered a failure. Her peers, the other Cavies, have powers that range from curdling a blood still in the vein to being able to overhear a conversation taking place three miles away, but when they're taken from the sanctuary where they grew up and forced into the real world, Gypsy, with her all-but-invisible gift, is the one with the advantage.

The only one who's safe, if the world finds out what they can do.

When the Cavies are attacked and inoculated with an unidentified virus, that illusion is shattered. Whatever was attached to the virus causes their abilities to change. Grow. In some cases, to escape their control.

Gypsy dreamed of normal high school, normal friends, a normal life, for years. Instead, the Cavies are sucked under a sea of government intrigue, weaponized genetic mutation, and crushing secrets that will reframe everything they've ever been told about how their "talents" came to be in the first place.

When they find out one of their own has been appropriated by the government, mistreated and forced to run dangerous missions, their desire for information becomes a pressing need. With only a series of guesses about their origins, the path to the truth becomes quickly littered with friends, enemies, and in the end, the Cavies ability to trust anyone at all.
(Source: I received a digital copy of this book for free on a read-to-review basis. Thanks to author Trisha Leigh.)
17-year-old Gypsy lives with a group of other kids who are collectively called Cavies. Each has a genetic mutation that gives them a special talent, although Gypsy's is thought of as 'Inconsequential' – knowing what age someone is going to die doesn't seem all that great compared to the ability to teleport, turn invisible, or kill someone just by thinking about it.
But then Gypsy's home is raided by police, and she finds herself in the real world living with her biological father, no longer surrounded by the only family she has ever known.
Can Gypsy learn to live with her ability in the real world? And are the Cavies safe without the guidance and supervision they had at their former home?
Having loved Trisha Leigh's 'The Last Year' series I was ecstatic to get my hands on a copy of Gypsy early, and was crossing fingers, toes, and anything else available that this would be just as good, and success! I totally was!
I really liked Gypsy, she couldn't replace Althea in my heart, but she made a place all of her own. I loved her quiet strength and her loyalty, the way she cared about those close to her, and put time into helping them to the best of her ability. I loved how she found ways to do things important without having what everybody else classified as a useful power, and tried to adapt to new situations the best she could.
The storyline in this was quite slow paced, but it was so good! I loved the little twists and turns, and the detail in the story, and liked that it was able to surprise me! The tension and anticipation were done well, and I wanted desperately to find out what was going on!
I loved the sci-fi angle to this, as well as the family feeling of the group of cavies, which sort of reminded me of the camaraderie of 'The Secret Circle', and this author's style of writing certainly holds magic for me. If I had one negative point though it would be that I found it a little difficult to keep track of who had what special power at times, even with the nick-names!
There was some romance, and even the hint of a love triangle, but the romance wasn't the main storyline, and Gypsy obviously had somewhat of a problem in that area because of her pesky little skill of knowing what age someone is going to die. Obviously not the first thing you want to know about a potential boyfriend – especially if the number turns out to be bad. I couldn't help but keep wishing that a certain person would kiss her though, even knowing what that would mean.
The ending to this was pretty good, although we were left lacking a lot of answers, and with a bit of a cliff-hanger. I really can't wait to find out what happens to Gypsy and the rest of the cavies next! The sequel to this is definitely going to be one of my most anticipated new releases this year!
Overall; brilliant fantasy/paranormal/sci-fi YA novel, read it!
9 out of 10.
The Author -
Trisha Leigh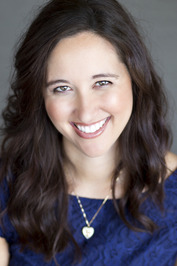 Released today, and only 77p/$1.30!