She carries more than just elemental powers. In 'Air', the sequel to 'Water' of the Akasha Series, Kaitlyn has a secret. One she won't be able to hide much longer. As the strongest Gaia the planet has ever seen, she must face mankind's greatest enemy as he campaigns for 'One Less: Depopulation'. Everything depends on Kaitlyn fully embracing her role as Gaia. Her family. The Seven. The Earth. Something has to give, and it won't be Kaitlyn.
(Source: I received a digital copy of this book for free on a read-to-review basis. Thanks to author Terra Harmony.)
This is book 2 in the 'Akasha' series, and picks up a short while after the end of book 1 'Water'. **Warning – may contain some unavoidable spoilers for book 1**
Kaitlyn has a major life change coming up following the events of the previous book, and she's not sharing it with the rest of the team, even though they're going to notice sooner or later.
Instead the team are focusing on tracking down Shawn, and working out exactly what he's up to, and exactly where he is. This proves to be even more difficult than they expected, but with Shawn leaving them clues to his location, are they walking into a trap?
When will Kaitlyn's secret come out though? How will everyone react? What exactly is Shawn planning? And is there a method to his madness?
This was a great second instalment to this series, and once again blended a mix of different ideas.
Kaitlyn has matured following the events of the previous book, but she remains a real fire-cracker, and continues to fight for her own independence and what she wants to do. Kaitlyn is definitely not one to back down from a fight, and although she does sometimes avoid difficult conversations, this isn't to her own detriment.
There wasn't quite so much romance in this book, partly due to a secret that Kaitlyn was hiding, but Micha persisted in protecting and fighting for Kaitlyn, and it was obvious how much they cared for one another.
There was once again both consensual and non-consensual sex scenes in this book, but again I thought that the author handled these more difficult scenes well, and managed to get this part of the storyline over without making the reader feel uncomfortable, which for me was important.
Once again this book had a unique mix of storylines, with romance, action, magic, and an environmental message. I felt that the science parts of this story were much more ingrained than they were in the first book, and fitted in with the other storylines really well. It can't be easy to mix such different themes together in one story, but the author seems to not only manage this, but to actually improve on it in this second book.
There was a fair bit of action at the end of this book, along with some twists, an unexpected death, and a very strange and risky decision made by Kaitlyn right at the end. I'm not sure where the author is going with this, but it will certainly be interesting to see what happens to Kaitlyn in the next instalment 'Fire'.
Overall; a pretty unique series, with romance, action, magic, and the elements/environment, and a feisty leading lady.
8 out of 10.
'Water' the first book in this series is FREE on amazon and at smashwords!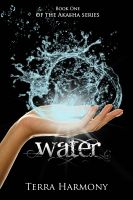 Smashwords