Elemental powers in the palm of her hand...and it won't be enough to save her. When Kaitlyn Alder is involuntarily introduced to a life of magic, she becomes part of an organization hell-bent on saving the Earth. Just as her new-found life holds promises of purpose, romance, and friendship, the organization divides and a rogue member holds Kaitlyn hostage. Now one of the most terrifying men the human race has to offer stands between her and Earth's survival.
(Source: Downloaded for free from Amazon.co.uk)
Kaitlyn thinks she's dead when she's swept up in an avalanche while snowboarding, the last thing she expects is to wake up locked in a small room which looks nothing like a hospital.
Deciding to try and escape, Kaitlyn breaks out through a small window, and puts up one hell of a fight when once again cornered, but there's no easy escape for her, especially when she finds out that the people who are holding her have cleared all her stuff from her apartment, and basically made out that she is dead!
Kaitlyn is in for even more of shock though when it is finally explained to her where she is and why. She has been taken by a group called 'the seven', who are trying to fight environmental problems using magical powers, and Kaitlyn is their new Gaia – the woman who has magical powers over earth, wind, water, and fire.
What exactly do these people expect from Kaitlyn though? How is she supposed to use these powers? And will her life ever be the same again?
I'm not really sure where to start with this book. I don't think I've ever read anything like this. There was action, there was romance, there was science, environmental stuff, and then there was magic! Such an odd combination! All the way through this book I was in two minds – did I like it? Did I want to keep reading? Could I skip this bit about phytoplankton? But I have to say that when I got to the end, I was strangely invested in finding out what happened to Kaitlyn next!
Kaitlyn was a feisty, headstrong, stubborn woman. She was all alone in the world, and lacked human company, but she sure had one hell of a temper, and put up one hell of a fight when she felt that she'd been kidnapped. She was may have even been a touch over-zealous in her attempts to escape, and it was easy to see how she made some enemies during her first escape attempt.
Kaitlyn really was a feisty little madam, who had some very definite ideas about what she would and wouldn't do, and made a big point of getting what she wanted when she wanted it, even if her demands were downright unattainable or OTT, this is not a girl I'd want to mess with!
The other characters in this book 'the seven' who had basically kidnapped her, and led the world to believe that she was dead were a real assortment of characters. Kaitlyn seemed to like Micah the best, although he later showed her just how far he was prepared to go to train her and keep her in line. Shawn was a nasty piece of work, Alex was the nice guy, and Cato was the Yoda of the group.
I was really unsure who out of this bunch was really trustworthy, and Kaitlyn's ideas on this subject changed during the book too. These characters were well fleshed out though, and had very distinct personalities.
Part of the storyline in this book is about ecology, and how the planet is changing and being damaged etc. 'The Seven' are trying to combat these problems and want Kaitlyn to use her powers to keep the planet in balance. This was quite an interesting and unique angle for the use of magical powers I must say, and also a great way to get this sort of environmental message out there, even if I can't say that I particularly enjoyed reading about the phytoplankton!
I did like the storyline in this book though, and I thought that even the nastier parts of the story were well written and not too disturbing, which could have easily been the case. This book is new adult or adult, not young adult though, and did contain sexual situations, both consensual and non-consensual.
As I said I did think that the ideas in this book were a bit of an odd combination at points, but in the end I did enjoy this book, and the little cliff-hanger at the end really did make me want to read the next book!
Overall; and interesting combination of action, romance, adventure, environmental issues, and magic!
7 out of 10.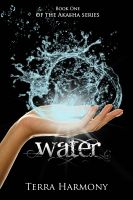 Smashwords
'Water' is free on kindle
, and at smashwords ☺