Blurb (from Goodreads):
A slave to the Unseelie Court, pitbull-shifter Canaan meets his match in the beautiful Unseelie prince. It's only a matter of time before they both get what they want.
(Source: Downloaded for free from Smashwords.)
Canaan is a shifter, imprisoned by the King of the Unseelie court, and forced to fight other shifters for sport. He has killed many, hundreds even, but this is what happens when you cross the fae.
Canaan has eyes for the king's son Kaer though, and one night Kaer visits him in his cell.
This was a first for me. I read this mainly because the author's surname began with an x and I needed an x for my a-z reading challenge! I have never read this sort of erotica before.
This is a short story which is basically an erotic encounter between Canaan and Kaer. As I say, this was a first for me, so I can't really comment on the er 'love' aspect of the book, but the story itself was well written, and flowed nicely.
This is free on Smashwords at the moment, so if anybody else fancies it (or needs an x for their A-Z reading challenge) – grab a copy!
This is a VERY ADULT BOOK though!
6.5 out of 10.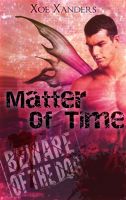 Smashwords