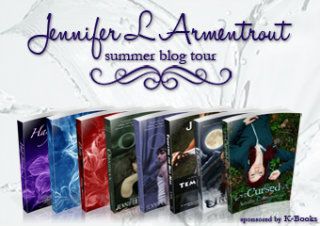 When seventeen-year-old Katy Swartz moved to West Virginia right before her senior year, she'd pretty much resigned herself to thick accents, dodgy internet access, and a whole lot of boring, but then she spotted her hot neighbor, with his looming height and eerie green eyes. Things were looking up...until he opened his mouth. Daemon Black is infuriating. Arrogant. Stab-worthy. It's hate at first sight, but when a stranger attacks her and Daemon literally freezes time with a wave of his hand, well, something...unexpected happens. The hot guy next door? Well, he's an alien. Turns out that Daemon and his sister have a galaxy of enemies wanting to steal their abilities and Katy is caught in the crosshairs. Daemon's touch has lit her up like the Vegas Strip and the only way she's getting out of this alive is by sticking close to him until her alien mojo fades. That is if she doesn't kill him first.
I know, I must be one of the last people on Goodreads to finally get round to this one!
(Source: I won a digital copy of this book.)
17-year-old Katy has just moved to West Virginia with her mom, and the last thing she expects to encounter are a pair of gorgeous aliens living right next door! While Dee quickly becomes her best friend, Daemon is a different matter entirely, being annoying and irritating and so damn desirable that Katy doesn't know what to do with him.
The aliens have enemies though, and humans absorb some of the aliens glow if they use their powers in front of them. Because of the way things have worked out, Katy is now glowing like a beacon, and it's only so long until the enemies come after her, and after the aliens too.
Can Dee, Daemon, and Katy avoid the enemy who want to kill them? And can Katy keep her temper around Daemon for long enough not to kill him herself?
I enjoyed this book. Daemon and Katy had real chemistry, and I really wanted their relationship to evolve into something more!
Katy was a real, down-to-earth kind of girl, and I liked how she handled Daemon, without needing any super-powers, or masses of confidence. Dee was a real upbeat kind of character who I really liked, and Daemon was just infuriating. I wasn't sure if I wanted Katy to kiss him or kill him in places! There was something a little lacking from him for me though, he just kept pushing Katy away without giving enough signals that really he liked her, and I really wanted there to be more development of their relationship.
I haven't read many books with aliens in them so far this year but this one was done well, and I liked the way that the 'aliens' weren't invincible, or able to hop back to their home planet at a moment's notice. I also liked that there were no UFO's involved in the story.
I did however cringe at some of Katy's book blogging stuff. She was absolutely desperate to post one moment, and then the next couldn't be bothered because she wasn't reading anything new! JLA – you don't need to make your main character a blogger to get us to read your books. And seriously, how the hell could anybody possibly concentrate on reading with Daemon living next door? I mean really? She should be prancing around in that red bikini and fanning herself with a book whilst strategically placing herself where he could see her.
Overall; an interesting storyline, and different to the normal vampires. No, I didn't love it as much as everyone else, but I will be reading Onyx. In fact if I had had my kindle this week I would probably have bought it and read it already!
8 out of 10.