Blurb (from Goodreads):
While their first single shoots up the Billboard charts, the Zebras hit the road as the opening band for an epic stadium tour across America. The future looks bright for the band... if they can survive the rioting fans, Queen Mab of Faerie, the dullahan, and a few evil teddy bears.

Aoide the Lutist and Liadan the banshee wolf cross into man-world on the trail of the stolen fairy instruments. Aoide is shocked at the strangeness of life among the humans, but she also learns about a thrilling new kind of music never heard in Faerie... rock and roll.
(Source: I received a digital copy of this book for free on a read-to-review basis. Thanks to J.L. Bryan)
This is the third book in the 'Songs of Magic' series, and picks up where book 2 – Fairy Blues' left off.
Jason, Erin, Mitch, and Dred are continuing on their tour, and the fairies are continuing to hunt for their instruments. There is a packed tour schedule ahead of them, and any number of other worldly creatures out to get them, from gargoyles to teddy bears.
Can the band survive this hectic lifestyle though? And how long will it be before the fairies get their hands back on those magical musical instruments?
This was a great 3rd instalment in the series, showing the continued efforts of the fairies and the fairy queen to get the musical instruments back, as well as the unexpected conditions the band find themselves working in! There are also things going on back home that will shock Jason and the band when they find out!
Proof that being a big rock star isn't as fantastic as it looks!
6.5 out of 10.
Blurn (from Goodreads):
Jason and Erin's urgent mission takes them deep into the colorful and deadly wilds of Faerie, full of bizarre and rude creatures, and past the glittering volcanic islands of the Southward Sea.

In man-world, Mitch and Dred try to prepare for a live concert in front of millions of viewers while half their band is missing. The record company is furious with them, and so are a certain violet-haired fairy and her banshee wolf friend, who finally catch up with them in Los Angeles.

In Faerie, Queen Mab and the leprechaun Aonghus Mac Lobhar enter into a secret agreement over a new kind of magic that will change fairyland forever..
(Source: I received a digital copy of this book for free on a read-to-review basis. Thanks to J. L. Bryan.)
This is the fourth book in the 'Songs of Magic' series, and kicks off where book 3 left off. (Trying to avoid spoilers so some names will be starred ** out.)
Jason and Erin are in the land of fairy, searching for ***** who has been kidnapped by Mrs Dullahan, (the keeper of the fairy gate that Jason originally went through to steal the instruments), whilst Mitch and Dred are left alone on the set of their next big gig, trying to hold the band together until Jason and Erin return.
Meanwhile, Aoide, the lutist from the fairy band is making her way to find the band and take back the stolen instruments.
Will Jason and Erin find ***** in time? What will happen to the gig without a guitarist and singer? What is Mrs Dullahan's game? Will Aoide ever get the bands stolen instruments back?
This was a rollercoaster ride of a story! The amount of strange things in fairy was just huge and so varied, from sabre-toothed ducks to rivers made of chocolate, unicorns, electric bugs, gumball trees, the 'sickly sweets' infection and boats shaped like ducks. It was totally nuts! (In a good way!)
I loved how the band was separated and each had their own thing to accomplish, I loved how Jason and Erin's relationship moved forward, and I loved how more was revealed about several of the characters, including Erin!
This really was an imaginative and interesting story, and the questions raised in this book leave room for further dramatic reveals in the fifth book 'fairyvision'!
8 out of 10.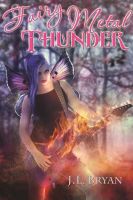 To win a copy of the second book 'Fairy Blues',
Good Luck! and thanks to the author J. L. Bryan for making this possible!
(If for any reason you are unable to download Fairy Metal Thunder for free from Smashwords, a copy of this will aso be provided to the winner)